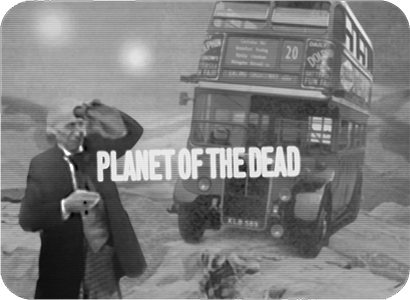 So… I was wondering what you all thought of the latest episode of Doctor Who?
Bloody good fun, I thought. Punch-the-air fantastic in places. Not convinced it had an original bone in its fluffy body (I expected it to riff on Pitch Black, Flight of the Phoenix, Indiana Jones, but Back to the Future Part 3??) but who cares when so many disparate elements were slotted together with such aplomb. Some lovely turns from the guest stars too. I hope we'll see more of the adventures of Lady Christina and Lee Evans's Malcolm was fun - could have been a nightmare, but somehow he fitted the story perfectly. The other guest was the gorgeous desert setting - I'm not 100% convinced they couldn't have made do with a Welsh beach and The Mill, but as the episode went on we were treated to some stunning widescreen vistas quite unlike anything seen on Doctor Who before. Bet it looked amazing in HD. (By coincidence I watched the desert-set first episode of 'The Chase' last night. Although I'd argue that 'The Chase' is funnier…)
Anyway, I'll write more after I've watched it again. For now, leave a comment and let me know if you enjoyed it as much as I did.
WALLPAPER: Due to overwhelming pressure (well, two of you, but I'm easily overwhelmed) here's a wallpaper-sized version of the John Cura telesnap above. Click for 1280×960.
Tags: doctor who, photoshop, planet of the dead