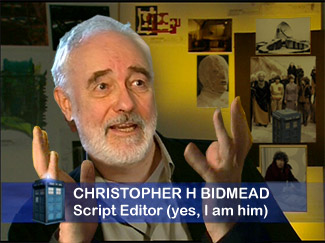 I've just finished reading Jason Arnopp's excellent interview with Christopher H Bidmead in the latest DWM. Bidmead was the script editor during a period of Doctor Who in the early 1980s that divides opinion, depending on whether you like your Who as a fluffy confection or a more downbeat affair grounded in hard science. I've got a soft spot for it, but it does feel stuffy, especially after the larks of previous years.
In the interview Bidmead puts his finger on so many problems in current Who it's almost a shame the piece appears in something as pro-nu-Who (though understandably!) as DWM. In this context he comes across as a grumpy old bugger who needs to, like, move with the times. But he's so right about some of RTD's storytelling decisions. My favourite f'rinstance is when he goes on at length about how the sonic screwdriver is a killer of ingenuity. We say ah, but wait, why waste valuable minutes and brain cells getting the Doctor through a locked door by other means? Russell said as much during Series One, was very jolly about it and we all nodded at such wisdom. But Bidmead points out, if the story slows down while the Doctor escapes by luring a Dalek onto a cloak or whatever, then "What the hell is the door doing there?" Seems obvious really, and can be applied elsewhere: if showing the Doctor unconvincingly descending a lift shaft is a waste of screen-time, why keep your pustulent zombie types downstairs?
I do love it, this new phenomenon. It's full of zest and colour. Sometimes I'm disappointed by what's underneath, but it seems ungrateful to complain after clamouring for so long to get it back. But while we're all chuckling at Bidmead's endearing grumpiness, recalling the other miserablists that have graced DWM's pages – I'm looking at you Boucher, Priest, Clive Swift, Richard Martin – you can't help but agree when he says RTD's scripts often feel like first drafts. The ones that don't are the ones that tend to have had the hard work already done by other writers. First drafts are messy, undisciplined things, full of excess. If you've got a scene like the one in the first draft of 'Journey's End', where our hero uses the TARDIS to tow a planet home, then that's OK, you'll think of something a bit less deranged in the rewrites. How I wish Bidmead had caught that one, especially as he and Davies often dabble in similar waters: I long to see Bidmead gesticulating wildly in a 1981 Doctor Who Confidential, describing his companion-heavy planet-hopping season finale as 'massive', with the fate of the universe at stake, etc etc. It may have a scene in it where the Doctor has the foolproof plan of materialising the TARDIS underwater and opening the doors, but hey, there are always the rewrites. Pssst, 1981-Christopher, in a future episode the Doctor actually drains the Thames! Yeah, I know that makes no sense, but trust me it's an absolute riot!
So Christopher, I thought you came across as a bit of a plum on the DVD extras, full of yourself, keen to distance yourself from criticism. But I like you again now, you speak a lot of sense and seem like a thoroughly nice bloke. I think the Moff should install you in the Upper Boat basement as his irascible unpaid scientific advisor.
Tags: doctor who